Sliding Stallions
Bay ~ Chestnut ~ Palomino ~ Pinto
---








Bay




Name: American Gold

Breed: Quarter Horse
Year: 2002-2003
Description: Dark bay stallion. Brown with black shading on muzzle and legs. Mane and tail are black.
Markings: White blaze on face, including pinked snip. Both front feet are socked.
Notes:










Chestnut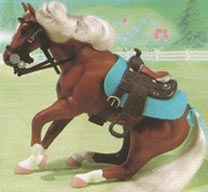 Name: Unknown

Breed: "Sorrel Quarter Horse"
Year: 2003-04
Description: Flaxen chestnut stallion. Light brown chestnut with darker brown shading on body and legs. Dark gray shading around eyes and muzzle. Hair is white.
Markings: White blaze on face. All four feet are socked.
Notes: This was a Euro-exclusive (?) release. He was never available in North America, and never given a name.












Palomino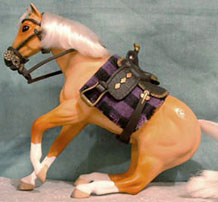 Name: Liquid Gold

Breed: Quarter Horse
Year: 2000
Description: Palomino stallion. Yellowish orange with orange shading on body and legs. Blackish shading around muzzle. Hooves are pale/peach colored. Mane and tail are white.
Markings: White blaze on face. All four feet are socked.
Notes:












Pinto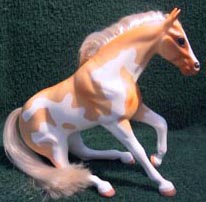 Name: Lucky's Lone Star

Breed: Quarter Horse
Year: 2001
Description: Palomino pinto stallion. Pale orange/apricot with white pinto markings. Pattern is Overo type. Hair is blonde.
Markings: Head is tobiano-like with white blaze. All legs are white.

Photo Notes: Many thanks go to Aly for this photo of Lucky's Lone Star, shown as One Slick Sinner.















Go Back...
To the Stallion ID Page




To the Main ID Page




To Valley Home













©2010 GC Classic ID Guide
Champion Valley Stables